Open Call: Minority Youth and the European Parliament elections in 2019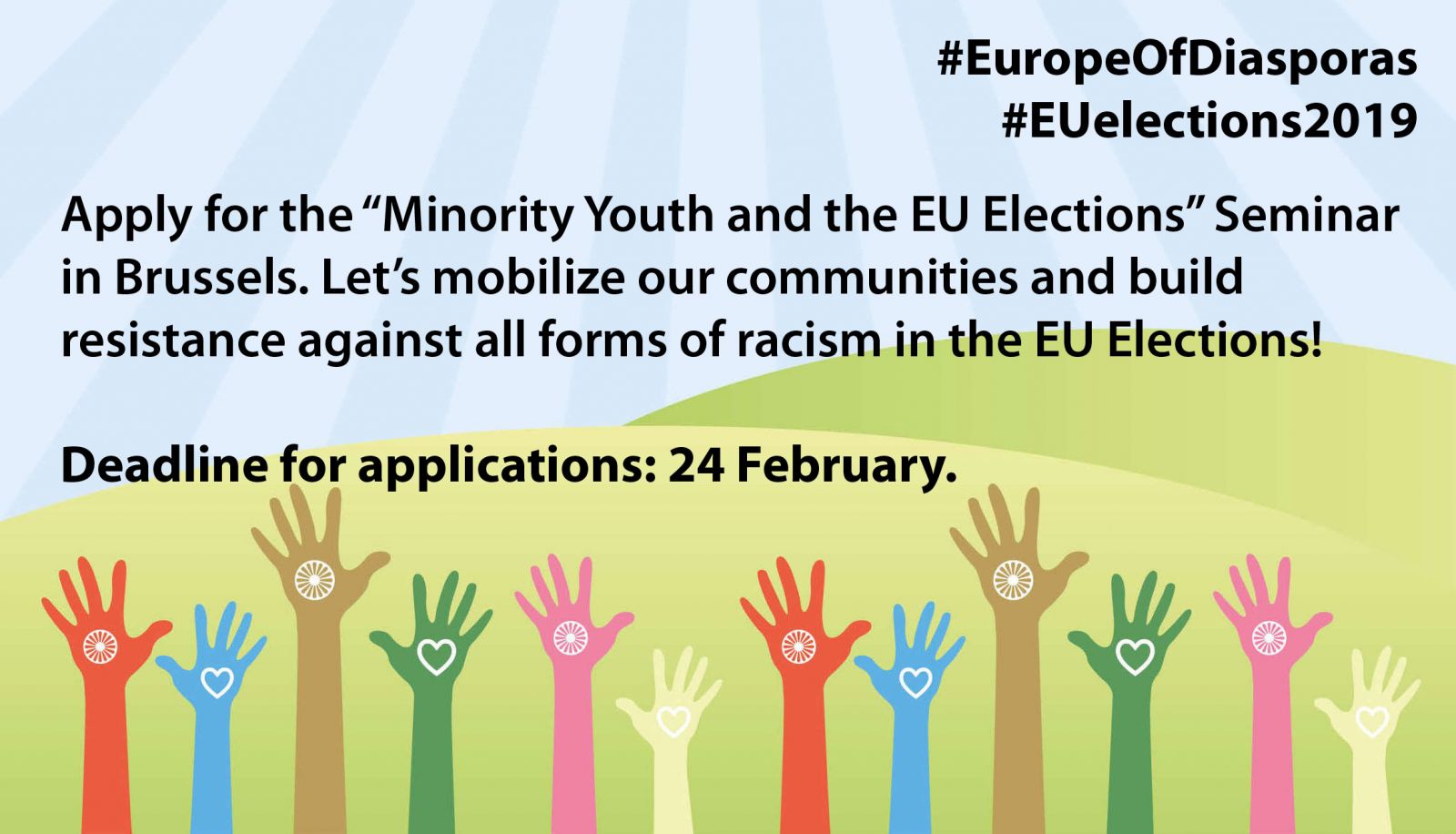 Are you a minority youth activist who is fed up with the nationalistic and racist wave of politics across Europe? Use your voice and speak out against racism! Let's mobilize our communities and contribute to fair democratic EU elections. Apply for the "Minority Youth and the EU Elections" Seminar in Brussels (16-22 March 2019). We will open the door of the European Parliament for you! Deadline for applications: 24 February. 
About the seminar 
The seminar aims to strengthen the capacity, exchange of experience and the networking and coalition-building of minority youth activists and youth organizations in order to mobilize other young people for the EU elections, as well as to counter and intervene against any racist narratives ahead of the EU elections in May 2019. All over Europe we increasingly face political parties especially of the far-right but even in the mainstream that use all forms of racism to win votes. The seminar takes place during the Anti-Racism Week / the EU Roma Week in the European Parliament from 16 to 22 March 2019. It is co-organized by ternYpe International Roma Youth Network, Armenian General Benevolent Union - AGBU, European Union of Jewish Students - EUJS, and the Youth of European Nationalities – YEN.
Our mission and vision 
We aim to empower young people to have a voice to become key agents of change, and to foster solidarity in Europe, in particular among young people! We strongly believe in an open, peaceful and inclusive Europe free of antigypsyism, antisemitism and all forms of racism and homophobia. As young people, we believe that we can build a European culture based on respect, dialogue, human rights and equal opportunities. We strongly follow our mission to create space for young people to become active citizens through empowerment, mobilization, self-organization and participation.
EU Anti-Racism and Roma Week in the European Parliament 
During the EU Anti-Racism and EU Roma Week (18-21 March) in the European Parliament, various activities/conferences take place that are hosted by Members of the European Parliament, the European Commission and civil society organizations. The Anti-Racism and Diversity Intergroup (ARDI) of the European Parliament coordinates the Roma week.
PARTICIPANTS 
We invite youth activists (18-35 years) in particular members of minority communities who are actively working against racism and for youth/community mobilization during the European Parliament elections. Applicants should be resident of the EU28-countries (including the UK), as well as Northern Macedonia, Serbia, Turkey, Lichtenstein, Norway and Iceland.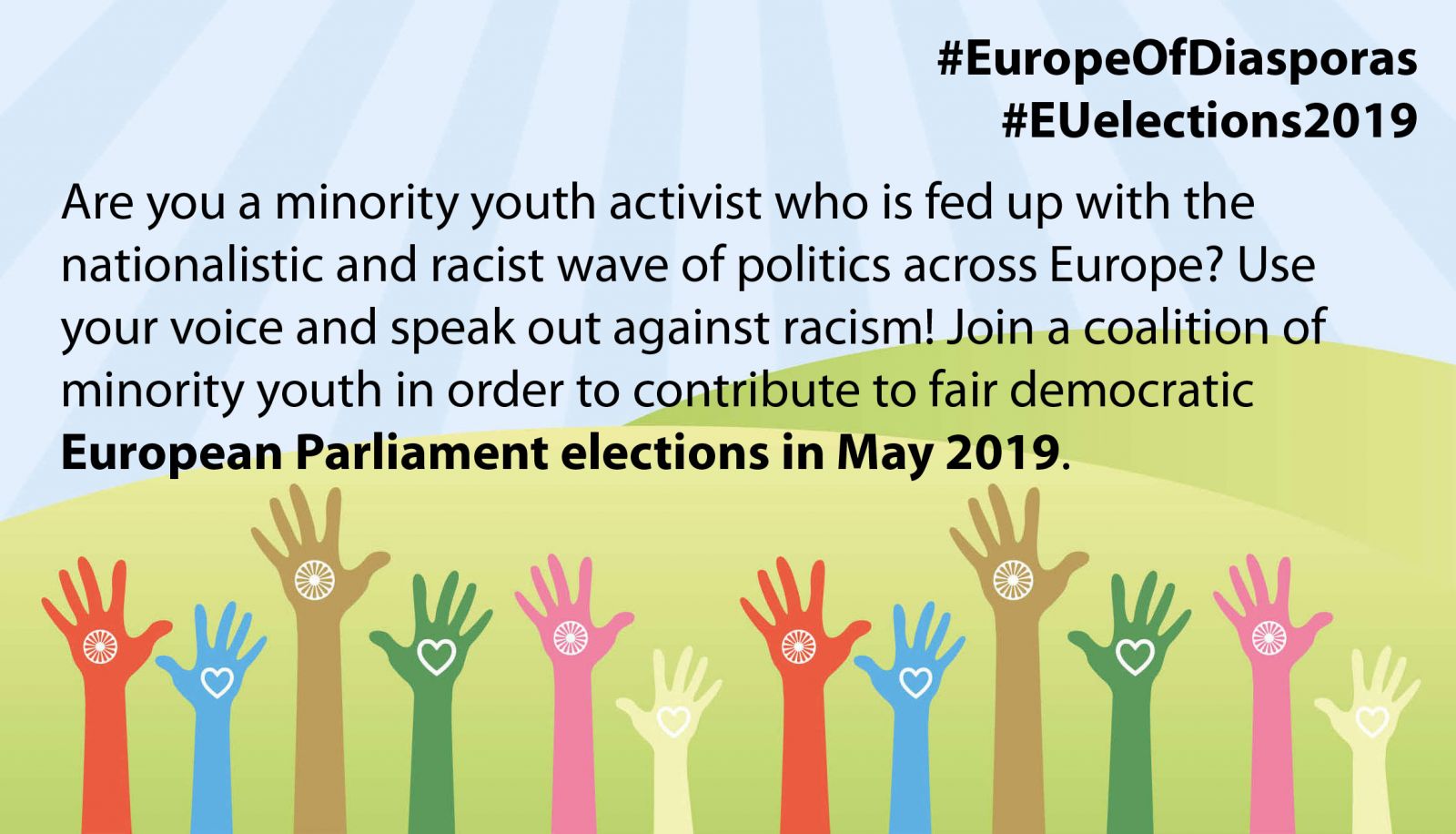 DATES OF THE ACTIVITY 
Arrival: March 16, 2019 (Saturday), Departure: March 22, 2019
The seminar is organised in Brussels, the conference will take place in various venues; information is provided with the Info Pack later.
TRAVEL  
Travel costs and accommodation/food will be covered for the selected participants. Participants should organize their travel for these dates AFTER the organizers have confirmed their participation.
APPLICATION AND SELECTION
How to apply? Register in the online application form: https://bit.ly/2BtOczt  
Application deadline: February 24, 2019 (end of day)
Selection procedure: 
If you fit into the participants' profile, you may submit an application until February 20 at midnight Central European Time. The preparatory team will select up the participants based on the profile outlined above, ensuring also a balance between genders, geographical regions, different types of experiences and organizations. Within few days, we will inform the candidates whether their application has been accepted or rejected.
ANY QUESTIONS?
Contact person: Atanas Stoyanov
e-mail: nasko@phirenamenca.eu
ternype general contact: ternype@romayouth.com